Q & A With Dr Leandro Herrero
Dr Leandro Herrero has recently been appointed as the Executive Fellow of The Center for the Future of Organization, at the Drucker School of Management, USA.    The Center for the Future of Organization is an independent Think Tank in the tradition of Peter Drucker.  A global hub for applied research and practical discourse on new paradigms of Leadership and Organization, it has a special interest in social technologies as drivers of competitive advantage.  To celebrate his appointment, we are delighted to bring you our unique Q & A with Dr. Herrero.  For more about Dr Herrero, see his bio below.  
Congratulations on your recent appointment as Executive Fellow at the Center for the Future of Organization, it is an inspirational organization. What do you consider is the most important purpose of the Centre and how will it affect how we approach organizational design in the future?
The Centre is an independent Think Tank within the Drucker School and is run by Roland Deiser, a great mind and forward looking, a very experienced professional. There are many projects in the pipeline. Currently, the center is looking at 'digital skills'. Take a look at the website.
2. In one of your videos, you state that within the Chalfont Project you help clients "to create a positive social infection within your organization" I love that concept. What does that mean in practice for organizations?
It means that day to day life in organizations is better understood through an infection model (of behaviors, of ideas, of practices) than an information 'stock model': there are so many brains to fill in with data. I sometimes use, a bit provocative but true, the term 'let's create an internal epidemic of'. For example, accountability, or agility, it does not matter. But the epidemic model gets attention. It does not get better than a good epidemic. Hopefully, we will create a positive one.
3. What do you think is the biggest hurdle organizations must overcome to be ready for the challenges of the 21st Century?
If I had to use a word, it would not be the standard 'change' or speed or the market complexity. My word would be imagination. No imagination, the rest is mechanics. And of course, there are good adaptive mechanics, don't get me wrong. But imagination, with his sister courage and brother boldness, is the key and the hope. There is always imagination around, but sometimes people don't give themselves permission to use it.
4. With the benefit of your extensive and wonderful experience, If you could give one single piece of advice to leaders in business, and CEO's reading this article, what would it be?
Respect the past, and then give it to the archeologists. The rules of the present and future are not written. Get a pen.
5. You've been an author for a number of years, with some inspirational books to your name. Have you an unwritten book or project still to come? If so what would the main message be?
My next book is about mobilizing people in organizations, but stealing as much as possible from people, not in the business organizations, who have been mobilizing for a long time. Traditional management and HR have been rather poor at understanding how to engage and mobilize. We have a whole industry about Employee Engagement which uses an input/output mechanistic approach: we'll give these guys Friday working from home and table tennis and they will produce more. It is rather pathetic.
The second writing project, in parallel, is a full application of Social Anthropology to the life of the organization. All that happens there makes more sense through the lenses of tribes, rituals and narratives that Social Anthropology brings in. Social Anthropology is much better than Harvard Business School, and much more fun.
6. Who is the most inspirational person you have met, and why?
Without a doubt the late Irish poet and philosopher John O'Donohue. He gave me new lenses to see the world.
7. How can our readers best benefit from the work you have done, and how can they best connect with you?
My six books are publically available in online bookstores. I do a limited amount of speaking engagements by invitation of corporations of many sizes. I find them, of course, very useful to connect with organizations. My teams at The Chalfont Project Ltd and Viral Change LLP work with me on global projects, which is where I spend most of my time.
Thank you, Dr. Herrero!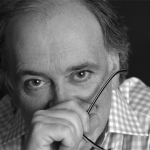 Dr Leandro Herrero, a psychiatrist by background, spent many years in hands-on leadership positions in global companies before founding The Chalfont Project Ltd, a leading consulting group of organizational architects.   He has pioneered Viral Change™, a Mobilizing Platform that is also an unconventional and very successful way of creating large scale behavioral and cultural change.   He also leads the Viral Change Global network of companies.
As a consultant, he works with organizations of many sizes at different levels: from Board and top management and leadership teams to staff in Business Units. Leandro Herrero is in the business of creating remarkable organizations, organizations worth remembering, worth telling a story. His personal key focus with his global team is the creation of a behavioral DNA which makes a particular organization remarkable, resilient, always ahead of the game and with the greatest change-ability. To do this, The Chalfont Project is at the edge of new ways of understanding leadership, change, and innovative management.
He has designed a suite of 'Accelerators' to speed up change, innovation and people alignment in organizations. These 'Accelerators' have an accreditation system.
Leandro Herrero is also Executive Fellow at the Center for the Future of Organization, at the Drucker School of Management, Claremont Graduate University.
As a speaker, Leandro Herrero has won the highest recognition from many audiences, big and small, at public forums and in-house events. That includes the Grand Davos Award in a World Communication Forum. He has also been a speaker at TEDx in London with great reception.
As an author, he has published several books on management of change and leadership. These include Viral Change, Homo Imitans, Disruptive Ideas, New Leaders Wanted and The Leader with Seven Faces. His latest book, However, work could be remarkable, is a compilation of his blog 'Daily Thoughts'.