Laughing Your Way Into Wellbeing Every Day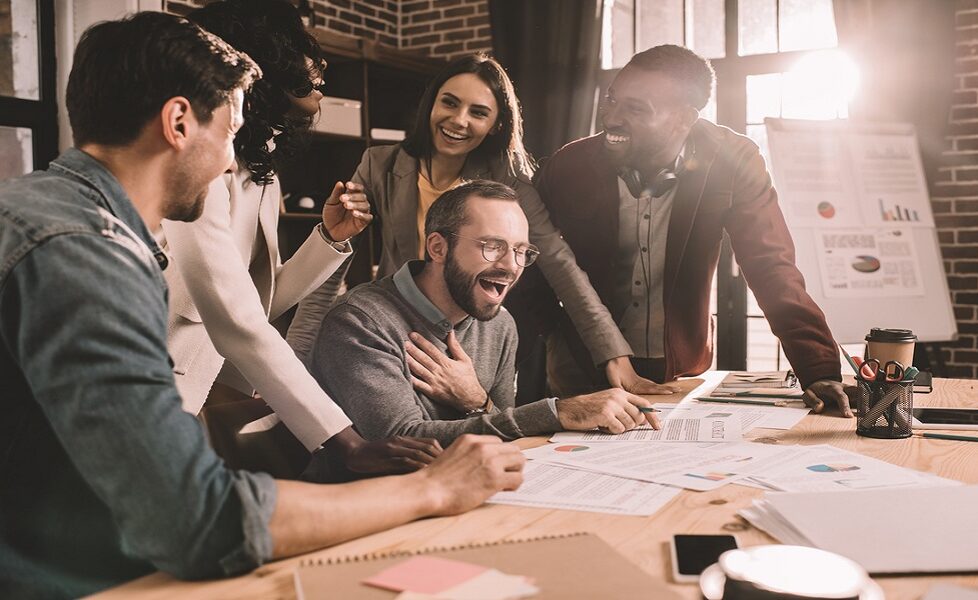 Do you laugh every day?
When was the last time you enjoyed a good hearty laugh? Can you remember the last time you laughed so much you cried? If you can't recall, it's time you did something about it. The old saying, 'laughter is the best medicine' isn't a myth.  The intention of laughing your way into wellbeing is a way of living which is powerful and works.
Laughter comes more naturally to some than others. But, there are lots of things we can do to help bring a bit more joy and laughter into our lives. From spending more time with the friends who lift our spirits, to comedy nights, such as those offered by Into The Blue, or even taking courses in laughter yoga. There are ample ways to get you tickled.
It isn't a joke! Laughter is good for you. Here are some very good reasons why you should try to laugh more and 9 fun tips on how to do it.
Laughing your way into wellbeing
Laughter not only puts you in a more positive frame of mind, adding to your sense of well-being, it also has a positive physiological impact on your health. Here are just some of the ways laughing your way into wellbeing works with these  amazing health benefits you'll reap from having a good laugh:
Releases happy endorphins and induces a positive state of being.
Releases tension, by relaxing muscles in the body.
Lowers stress hormones.
Helps you to let go of anxiety and fear.
Helps you to bond in social situations.
Improves your mood.
Makes you more attractive to others.
Boosts immunity.
Adds to the zest of life.
Helps to diffuse conflict.
Helps prevent heart disease.
How to laugh more
For those who spend their lives feeling jolly, laughter is a natural part of everyday life. However, according to statistics collated by the Mental Health Foundation in 2014, almost 20 per cent of people in the UK age 16 and over showed symptoms of anxiety and depression.
Sometimes busy modern life comes at a price. It's easy for the stresses in life to take over, and when that happens the propensity to laugh becomes less. If you notice that you aren't laughing as much as you used to, it could be time for you to bring some laughter back into your life.
Laughter is not only fun and good for your health, but it also brings a surprising amount of perspective to those everyday things that can get us down. Here are 9 tips to get you laughing more:
1. Loosen up
Try not to take things too seriously. Remind yourself daily that life is too short to get het up about things that really aren't that important.
2. Smile more
A smile precedes laughter. If your attempt at smiling more feels forced, don't give up. Keep at it and you'll soon be amazed at how natural it becomes. Fake it until you make it, as they say. Smile at others and you'll also be surprised at how many people start to smile back. It can really make a difference to your day.
3. Spend more time with people who make you laugh
Emotions are contagious. Being around fun and playful people will lift your spirits. Having someone in your social circle who is upbeat increases your chance of happiness, and you'll laugh a lot more too.
4. Go to more comedy events
Seeing your favourite comedian at a live event is bound to get you howling with laughter. There are plenty of comedy events out there from small pub-based comedy nights with new comedians trying to break into the circuit like in comedy clubs London, to full-blown events at well-known venues offering shows with big names.
5. Start a gratitude diary
Seeing how much good stuff there is in your life, will help you lighten up and enjoy life more.
6. Watch more funny movies
Watching funny movies is a great way to unwind. If you're feeling a tad low and bit grumpy, a funny movie can be all it takes to put you in a better mood. Here are our top 10 funny films (in no particular order).
There has to be at least one or two in here that get you giggling:
Dumb and Dumber
Ace Ventura Pet Detective
Borat
Planes, Trains and Automobiles
Monty Python's Life of Brian
National Lampoon's Christmas Vacation
Elf
Airplane
Anchorman
Austin Powers: International Man of Mystery
7. Go to a laughter yoga class
Yes, there is such a thing! Created in India in the mid-1990s, laughter yoga was developed to cross political, religious and racial divides. Participants do not need to have a sense of humour, know jokes, or even be happy.
8. Participate in some fun activities
There are heaps of fun things to do that will help put a smile on your face. Dance, play crazy golf, fly a kite, jump in muddy puddles, walk barefoot in the grass, or have a water fight. Do something out of the ordinary.
9. Read positive daily quotes
Getting yourself in a positive frame of mind will help you to enjoy life more and see the funny side of things. We love this quote from Dr Seuss, "from there to here, from here to there, funny things are everywhere."
Understand laughing your way into wellbeing every day works. Seek laughter, and you will find it. It's good for the soul.