Change and Work life Integration During a Pandemic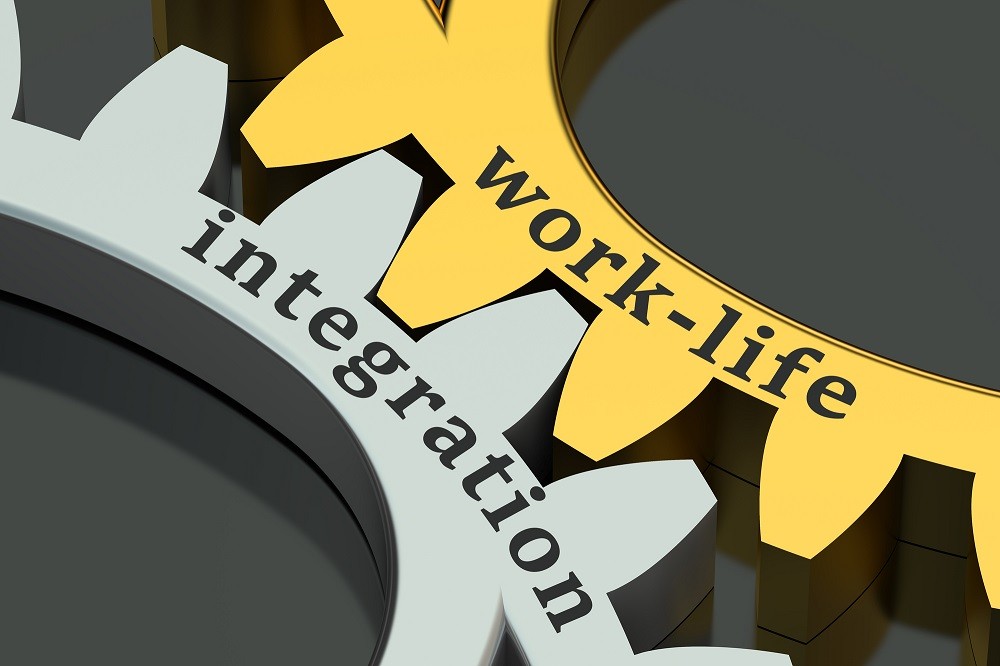 The "new normal" as it has been labelled since the beginning of the pandemic has created a movement driven by health concerns and business challenges and imperatives. Now working, learning, and even medical discussions with your doctor are occurring remotely. All of this enabled via technology. While changes have dramatically taken place in 2020, it has also brought work-life balance or the newer term work-life integration to the forefront of our minds.
To continue to effectively work through the current pandemic and brace for whatever future world events that may occur, companies need to understand how to best help their employees engage in effective work-life integration techniques. We highlight the main functions that need to play a role in effectively fostering this integration. First, we look at the concepts.
Work-life balance or Work-life integration
The phrase 'work-life balance' was first used in the UK in the late 1970s, and in the US in the mid-1980s. However, many argue the term creates an illusory goal that can never be achieved (Logghe, et al, 2017). Over time many realized that most workers were not really good at balancing work and life, partly due to the increasing demands from their organizations. And hence since then, the newer term increasingly used is work-life integration. Especially since most have been forced to integrate their personal and professional lives. Co-parenting is becoming the new norm especially now with the pandemic (Zailis, 2019).
As if the pandemic had not created and forced enough changes, something that had been occurring before the pandemic was the expectations of the workforce. More and more employees have been looking for meaning and purpose in their lives and very few are finding this in their work settings. This is important because the workplace has and, in a few cases, had shown itself as a place for people to find this. It showed where most workers valued the importance of human contact.
The pandemic and many being forced to work remote has created some challenges that include trying to balance or now integrate family and work. These challenges also increase the possibilities of feeling isolated and lonely which can lead to health issues like dementia, depression, and anxiety (Mosley & Irvine, 2021). Being isolated from those we work with every day, can also lead to a feeling of lack of connectedness, community, and common purpose. Social isolation and lonely workers have been reported to experience lower job satisfaction, fewer promotions, and an increase in willingness to quit by the employee (Achor, et al, 2018).
Change
Change is something that all adults have been through, both personally and professionally. However, the one that gets the most press is the one about dealing or resisting change in a work setting. It has been written that most resist change for a variety of reasons, but three that seem to resonate are, they don't like it, don't like you (the initiator of the change), and don't understand it (Maurer, 2010). Covid 19 has forced organizations to change their operations where possible and one of these changes is the ability to have segments of their workforce to work remote.
Work-life balance has evolved over time to work-life integration and has created challenges and opportunities along the way. But now work-life integration has taken on a new level of importance and urgency when now working remotely means the home has become the new workplace.
Stress
Work has always carried its level of stress. As a point of reference, work is the 5th cause of death in the U.S. due to stress. It is estimated that stress is causing companies over $500 billion a year (Pfeffer, 2018). Due to the recency of the pandemic, there is very little research on the cost of stress due to the new work arrangements for employees working remotely and integrating their work with their personal lives right in their own homes. Trying to now deliver on their assignments and projects while managing a career and in addition taking care of their children learning from home creates additional stress.
In particular, if you look to female workers, you see that they have disproportionality taken on the burden of childcare in remote learning situations (Mahajan et al. 2020). The result has been a departure of over 800,000 women from the workplace. This extreme exodus emphasizes the need for a better way to manage work and life obligations.
An additional source of stress has been the limited social interaction. Drawing from basic needs theories of motivation, we know that social interaction is an important factor. Leaders need to give serious consideration to how engagement can be achieved without making it a stressful obligation.
Engagement (or lack thereof)
Before the pandemic, 85% of the workforce were either actively disengaged or not engaged, costing companies over $7 trillion in productivity (Friedman, 2014). The question this creates is what is the state of engagement, stress, and in turn work-life integration during these changes that have disrupted so many lives?
Human Resources (HR)
Especially during these changing and disruptive times, HR needs to play an important role in enabling the organization and its leadership to move forward and be proactive to ensure a smooth transition to remote work. In 2019, before the pandemic, there were 36 million or 25% of U.S. employees were working remote at least some of the time (Ciccarelli, 2019). Some of the frustrations these workers had with the work setup were poor network connectivity, slow and dated devices, and collaboration issues among others
Instrumental to the success of this change is having the right IT equipment along with a strong supporting culture of this new work experience. This is further supported by nearly 60% of CFOs that are ready for remote work (McGovern, 2020). In addition, the pandemic has reinforced the benefits of working remotely with increased flexibility (Mayer, 2020). This means bottom-line implications need to be considered and practices and policies need to change. Some considerations are flexibility, changing policies, engaging the workforce, communicate, communicate, communicate, and ensuring fair and consistent practices.
Organizational Culture
Organizational Culture is described as the personality of the organization. It includes the beliefs, values espoused by the organization and the unwritten rules expected of its employees and leaders. This is important to note because organizational culture is seen as critical to the success of an organization's business imperatives and as a reflection of leadership. The culture of organization, especially during these changing times, and the sort of environment that leaders are creating when it comes to work-life integration will be crucial going forward.
Systems Thinking
Seen as a key competency of the 21st-century management (Kim, 1999), systems thinking plays an important in effectively navigating the pandemic and post-pandemic changes in an organization. As mentioned previously, HR needs to be a strategic and proactive partner with the organization's leadership in order to enable the organization to move through the change to an evolving work model like remote work and at the same time helping their workforce effectively adapt to work-life integration. Leaders need to ensure they are considering the whole ecosystem when moving an organization and its workforce through a change (Hanna, 2018), like remote work.
Systems thinking is taking the view from the balcony of how the various components interact and function in unison. When dealing with a remote workforce, the system if complicated by different realities and responsibilities of the employee. When one is in the physical workplace, the system is more contained and standard across employees, however, in the remote workplace, leaders are not afforded that same luxury.
There are defining characteristics of a system that are important for every manager to consider: the purpose is clear, the role of each part of the system in achieving the purpose if clear, how all the parts are arranged to optimally achieve that purpose, and how is feedback is monitored to ensure continued stability.
Maintaining a systems thinking mindset ensures that organizations, leaderships, and the HR functions are avoiding a myopic approach to change without consideration of other components that could minimize a successful change. In other words, systems thinking encourages leaders to change their expectations on how to manage their workers differently in a remote environment. The organization with HR leadership needs to ensure policies and practices are in place to ensure success and address the needed technology is present to enable change. One way to do this is to ensure the critical stakeholders are engaged.
Leaders 
What leaders do, role-model and support will play an important role in these critical times. How they support their employees during their work-life integration process will be imperative. Work-life balance did not work out well when people were working in the worksite. Now that work and home are one and the same, what the leadership teams do will be critical to the success of employees work-life integration, stress management, working through change efforts (being that this is a change effort in itself), employee engagement, and what sort of organizational culture will be enabled during these changing times.
How leaders react to this and perform will be important, particularly since leaders have not had a great grade when it comes to a variety of issues related to their workforce. For example, after an estimated $46 billion spent on leadership development, you still have some disconnects such as 77% leaders thinking they are good at engagement, while 88% leaders do not, only 36% of employees are happy at work, 8% of leaders are seen as effective leaders, and what seems like a critical condemnation of leaders, 65% employees would give up a pay raise to see their leaders fired (Hougaard & Carter, 2018).
While it is bad enough that some leaders, depending on what you read, might not be the best they should be during normal times. What might be needed during extraordinary times might be for leaders to create an environment that has some predictability, understanding, control, and compassion (Sutton, 2009).
Systems Approach and Pandemic Guide Considerations
As the workplace continues to adapt and change in light of the recent events, organizations and leaders need to encourage employees to develop effective work-life integration.  The following visual, the LEADER Pandemic Guide, summarizes the key components managers, leaders and organizations need to consider and address to help themselves and their employees to effectively navigate our current reality.
Work-life Integration Systems Approach
LEADERS Pandemic Guide
Leaders Pandemic Guide
Listen and Learn
Listen to ideas and concerns. Learn what they need to continue to thrive in this uncertain time.
Engage
Engage in new ways and ensure you are creating an engaging environment. Be Deliberate.
Adapt & Agile
Lead by example and ensure you are adapting yourself effectively. Ensure you are enabling an agile environment.
Develop
Change requires new skills. Be willing to invest in your own development and the development of your employees.
Empathize
The workplace levelled the playing field, but now that work and personal are more integrated, you need to be empathetic to other realities.
Recognition and Respect
The pandemic has enhanced the motivational impact of praise and respect in the workplace. The number one issue today's workforce is looking for in their work environment is appreciation.
Systems approach
Ensure you are taking a systemic integrated approach in practices to effectively manage and thrive in this environment?
Sources
Achor, S., Reece, A., Kellerman, G., & Robichaux, A. 2018. 9 out of 10 people are willing to earn less money to do more meaningful work. Retrieved from: Harvard Business Review. Meaningful Work
Ciccarelli, M., 2019. How HR can improve the remote-worker experience. Retrieved from: Human Resource Executive.  How HR can improve the remote-worker experience.
Friedman, R. 2014. The best place to work.
Hanna, D. 2018. 5 tips for HR: how to drive successful change through systems thinking. Retrieved from: Inside HR. Systems Thinking and HR
Hougaard, R., & Carter, J. 2018. The mind of the leader.
Logghe, H, MD; Scarlet, S., MD; Jones, C., MD, MS; & Aggarwal, R., MD, PhD, 2017. Work-Life Integration: Being Whole at Work and at Home. Retrieved from:  WorkLifeBalanceVsWorkLifeIntegration.
Maurer, R. 2010. Beyond the Wall of Resistance.
Mahajan, D., White, O., Maggavka, A., & Krishnan, M. (2020). Don't Let the Pandemic Set Back Gender Equality. Harvard Business Review.
Mayer, K. 2020. I'm a remote worker. Here's what I want HR leaders to know. Retrieved from: Human Resources Executive. What HR leaders need to know about remote workers
McGovern, M. 2020. How to adapt HR policies for the Remote Work Era. Retrieved from: HR Morning. HR Policies and Remote Work
Mosley, E. & Irvine, D. 2021. Making Work Human: How human-centred companies are changing the future of work and the world.
Pfeiffer, J. 2018. Dying for a Paycheck.
Sutton, R. 2009. How to be a good boss in a bad economy. Harvard Business Review.
Zalis, S. 2019. Why work-life integration is the new norm. Retrieved from Forbes. Work-life integration new norm
Article by Dr Edwin Mourino and Dr K. Dorren MacAulay
[ts_fab authorid="2694″ tabs="bio,latest_posts,custom"]
Doreen MacAulay, PhD is an Instructor with the Muma College of Business at the University of South Florida and Principal Partner of SOF-ONE.com. Her areas of focus are leadership, ethics, and the history of management thought. She obtained her PhD in 2013 from Saint Mary's University in Halifax, Nova Scotia in Business Management. She is a member of the Academy of Management Association and the MidWest Academy of Management Association. She has served as a reviewer for several conferences and journals. MacAulay also holds an MBA University of New Brunswick and a bachelor's degree in psychology from St. Francis Xavier University in Nova Scotia.