The Evolution Of The Employee Survey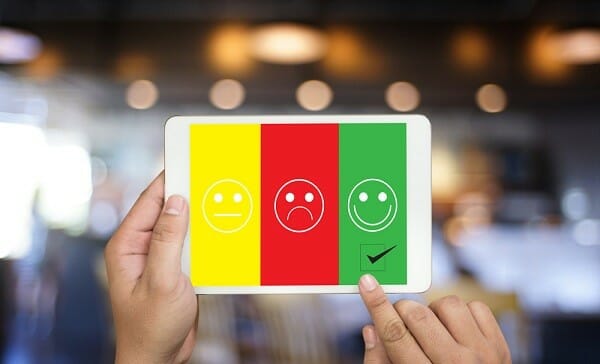 For many years, employee surveys have been a valuable tool when it comes to understanding and improving your organisation's performance. A well-planned and well-executed survey can provide invaluable insights that lead to positive changes and increased employee engagement. However, technology has the potential to change the face of sourcing employee feedback and so here we look at the elements which make a good survey while contemplating the evolution of the employee survey. 
Designing an Employee Survey
To ensure its effectiveness, it is crucial to design the employee survey with purpose and careful consideration. Let's explore the essential steps to creating a fit-for-purpose employee survey and discuss the science behind these surveys.
1. Identifying the Survey's Purpose
Before embarking on an employee survey, it's important to define its purpose. Consider what you hope to achieve and the specific areas you want to address. For example, if you aim to improve employee engagement, ensure that the survey delves into the factors that drive engagement within your organisation. Keep in mind that different business areas may have varying issues and areas of performance, so tailor the survey accordingly.
To gain comprehensive insights, identify areas of best practice within your organisation that can serve as learning opportunities for others. By framing your questions effectively, you can extract valuable information that will contribute to your organisation's growth and development.
Research suggests that well-designed employee surveys positively impact organisational outcomes, including job satisfaction, commitment, and performance (e.g., Cropanzano & Wright, 2001; Harter et al., 2002). Additionally, studies indicate a correlation between employee engagement and key business metrics, such as customer satisfaction and profitability.
2. Choosing the Survey Administrator
When it comes to administering the survey, consider whether an external consultant or internal staff should handle the task. An external consultant offers the advantage of independence and objectivity. They are free from internal politics and biases that may influence the survey results. Employees also tend to be more candid with an external consultant, creating a conducive environment for honest feedback.
Moreover, utilising an external consultant can be cost-effective and time-efficient. These professionals specialise in conducting surveys, ensuring a focused approach and quicker completion of the process. However, if you decide to use internal staff, particularly your Human Resources (HR) department, ensure they have experience in conducting employee surveys. Additionally, address concerns regarding confidentiality and anonymity to build trust and encourage honest responses.
3. Survey Design for Optimal Results
To maximise the effectiveness of your employee survey, focus on creating questions that elicit simple responses. Open-ended questions may hinder data interpretation and statistical reporting. Keep the survey simple, readable, and concise to enhance completion rates. Avoid overwhelming respondents with too many response options, as it may lead to hasty, superficial answers. Instead, encourage thoughtful and reflective responses from your employees.
Start the survey with a clear statement of its purpose, along with instructions on how to complete it and an estimated time for completion. Provide clear submission instructions and express gratitude for their time. Research suggests that shorter surveys tend to yield higher response rates (Chen & Powell, 2012). This implies that employees are more likely to engage with the survey if it is perceived as manageable and not overly time-consuming.
4. Effective Communication Throughout the Process
Clear and effective communication is vital for the success of your survey initiative. Ensure that employees understand the purpose and benefits of the survey while maintaining a tactful and diplomatic approach. For instance, if the aim is to improve profitability, reassure employees that their jobs are not at stake, as this can affect their willingness to provide honest feedback.
Communicate openly about the survey, including its objectives, process, timeline, confidentiality, and anonymity policies. This transparency builds trust and encourages participation. Employees should feel confident that their feedback will be heard and utilised to drive positive change within the organisation.
5. Conducting the Survey
To encourage participation, set a specific timeframe for completing the surveys. As a general guideline, keep the questionnaire as brief as possible to maintain a high response rate. Aim for a survey that can be completed within 10 to 15 minutes. Additionally, consider limiting the survey's availability period. Research suggests that shorter live periods correlate with higher response rates (Baruch & Holtom, 2008). By creating a sense of urgency, you can motivate employees to complete the survey promptly.
Throughout the survey period, send reminders to express gratitude to those who have already participated and to remind others about the approaching deadline. If the survey is conducted online, include a direct link for easy access. A final reminder should be sent a day before the deadline to maximise participation.
6. Compiling Survey Results
Efficiently managing and organising the survey data is essential for accurate analysis and interpretation. Keep track of the entered data and conduct a thorough review for data entry accuracy. Structured storage of the data allows for easy accessibility and future reference. Transform the data into variables that facilitate statistical analysis, such as categorising the length of service into ranges instead of discrete numbers.
7. Presenting Results and Follow-through
Reporting the survey findings in a timely manner is crucial to maintaining employee engagement and trust. Avoid overwhelming the audience with complex statistical analyses and instead focus on providing a clear and understandable summary of key findings. Use descriptive statistics to tell a compelling story about the data, highlighting both strengths and weaknesses.
Emphasise that the survey results have identified areas for improvement and areas of excellence rather than openly criticising or blaming employees. Communicate how the data will be used and outline the next steps in the process. Clearly articulate the timeframe for implementing changes and share the desired outcomes with the employees.
To ensure ongoing engagement and communication, establish a feedback loop with employees. Regularly update them on the progress made based on the survey results and encourage them to provide further input. This two-way communication fosters a culture of continuous improvement and demonstrates that the organisation values employee perspectives.
The Future of Employee Surveys
As technology continues to advance, the future of employee surveys is likely to be shaped by innovative approaches. Online platforms and artificial intelligence-driven analytics can enhance the survey experience and generate deeper insights. Real-time feedback systems, pulse surveys, and sentiment analysis tools are emerging trends that allow organisations to capture employee sentiments and address concerns promptly.
Moreover, organisations are increasingly recognising the importance of employee well-being and the impact it has on overall performance. Future surveys may focus not only on engagement and satisfaction but also on aspects such as work-life balance, mental health support, and organisational culture.
Keep up to date with developments
To ensure the relevance and effectiveness of employee surveys, organisations should stay updated on current research and best practices in survey design and administration. Understanding the science behind employee surveys, including the assumptions they are based on, enables organisations to make informed decisions and drive positive change within their workforce.
A well-executed employee survey holds immense value for organisations. By identifying the survey's purpose, choosing the right administrator, designing the survey effectively, communicating transparently, conducting it efficiently, compiling results accurately, and presenting findings comprehensively, organisations can harness the power of employee feedback to drive positive change and foster a culture of continuous improvement.
About the Author
Latest Posts
The Survey Initiative was established to deliver high quality and cost effective employee survey solutions. Several years on, we are proud to be continuing to deliver what we do best for our clients. Our unique approach to conducting employee surveys is founded on 15 years of experience. Our team are adept in conducting employee research in both large and small organisations, across a wide spread of industries